Healthy Workplaces
Leveraging Workplaces in the Fight Against Diabetes
Workplaces have long been validated as platforms for wellness advancement and chronic disease prevention. Through our pioneering Healthy Workplace efforts in India, we are making a sound investment in public health and India's development.
We now have more than 147 companies in India that have earned recognition as Healthy Workplaces, spanning 2.5 million employees. 
Several leading organizations have joined us as partners.
We are also grateful to our 2020 Healthy Workplace 2019 Healthy Workplace 2018 Healthy Workplace, 2017 Healthy Workplace, 2017 Platinum, 2016 Healthy Workplace, 2016 Platinum, 2015 Healthy Workplace, 2014 Healthy Workplace, and  2013 Healthy Workplace winners for their efforts to fight non-communicable diseases and protect their employees.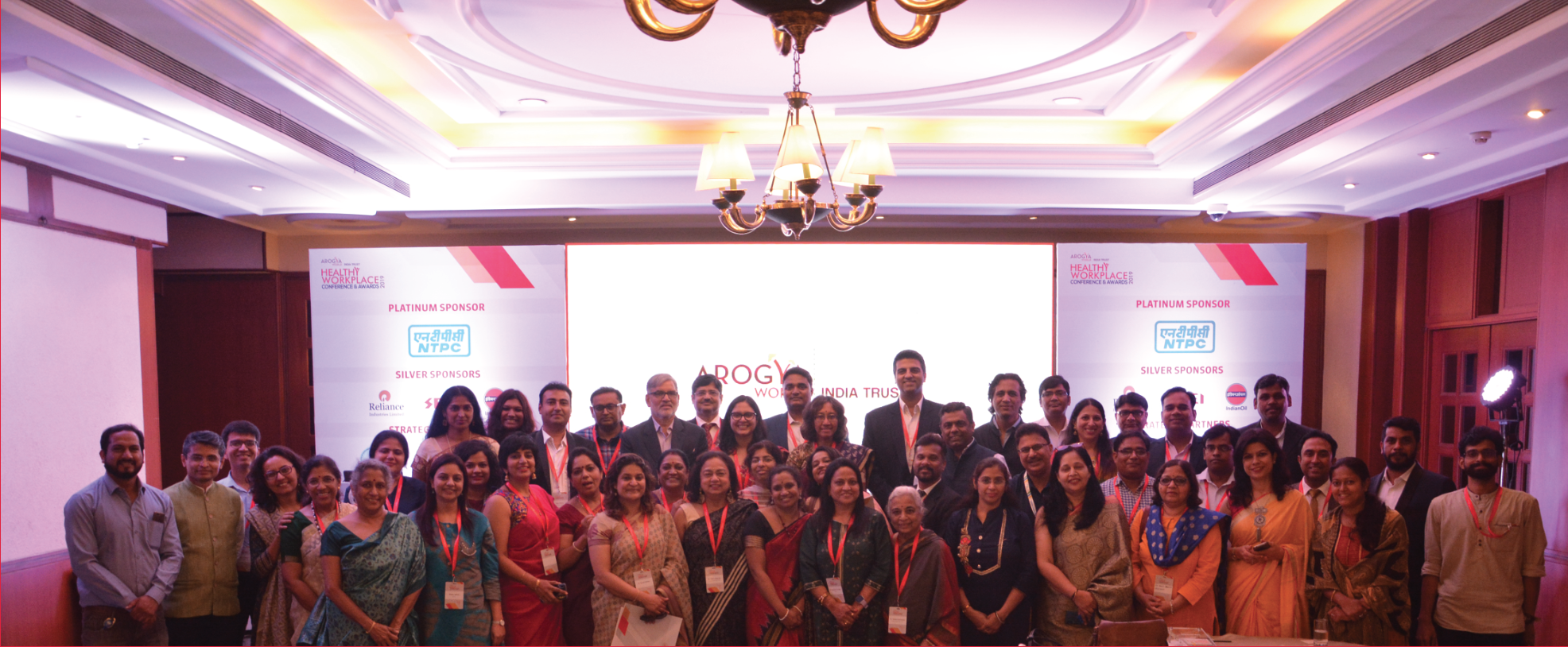 Healthy Workplace Criteria
Criteria that mark a workplace in India as "healthy" were developed in 2012 by us with the input of multiple stakeholders. These Healthy Workplace criteria, co-created with industry, are organized into 4 levels—Bronze, Silver, Gold, and Platinum—and include establishing a work-life balance and shifting mind-set metrics, in addition to a workplace no-tobacco-use policy and easy access to healthy foods and opportunities for physical activity. In 2020, we also added a Mental Health criteria. See the full Healthy Workplaces Criteria.
After companies formally apply for the award, a 3-person assessment team visits the site to score each company's activities and confirm award levels. Healthy Workplaces are recognized at an annual award event, and in newspaper ads congratulating them on their achievements.
Platinum Level
This invitation only effort is a higher level Healthy Workplace initiative and recognizes companies for tracking employee health data. Gold level is a pre-requisite for companies to be invited to apply. The applications are scored for their leadership and commitment to health, and for measuring data on employee engagement, health program participation and health outcomes. We have recognized 33 companies at the Platinum level through 2018.
In collaboration with Arogya World and other partners, we are showcasing and encouraging companies in India to do more for mental health. We held a half day session on mental health in the workplace at the 2018 Annual Healthy Workplace Conference & Award Event.
Read More About Our Mental Health Criteria
Case Studies
We have released two case studies of our Healthy Workplaces in India doing extraordinary work to improve mental health in the workplace. Each has tackled and successfully deployed mental health programs across their large workforce (>100,000 employees).